Bertram L. Woodruff (BA 1929; MA 1930) completed his PhD at Harvard. He taught as a member of the English department at Johnson C. Smith University, Charlotte, N.C., where he directed the debating club, and then at West Virginia State College. In 1940, he was the President of the College Language Association.  Woodruff served on the editorial board of the Quarterly Review of Higher Education Among Negroes. He published on Keats and on African American Poetry. See, for example, "The Poetic Philosophy of Countee Cullen" in Phylon.
Agnes Lynch Starrett graduated with a Bachelor's degree from the University of Pittsburgh in 1920; she earned her Master's Degree in English in June of 1925.  From 1925 to 1959, Starrett served as a faculty member in the English department. Chancellor Bowman commissioned her to write a history of the university in celebration of its 150th anniversary, Through 150 Years: The History of the University of Pittsburgh (Pittsburgh UP, 1937). Starrett served as the first full-time Director of the University of Pittsburgh Press, 1954-1964.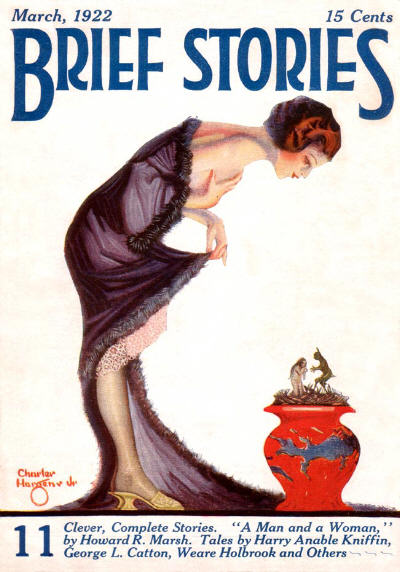 Edwin L. Peterson: Edwin (Pete) Peterson was a protégé of Percival Hunt. He received his BA and MA in English at the University of Pittsburgh (1926, 1928). From 1926 to 1935, he taught lower division literature and writing courses as an Instructor in the English department. In 1935 he was promoted to Assistant Professor, and he went on to a long and influential career in English at Pitt. 
From 1923 to 1930, Peterson was publishing regularly in both pulp and mainstream magazines. He published a series of one page short stories for Brief Stories written while he was an undergraduate:
           "Hedges," July 1923
           "Question," September 1923
            "Groping," February 1923
            "The Purple Ship," January 1924
            "Paganism," February 1924
            "Kin," February 1925, reprinted in The America Short Story, January 1930
He published a short, essay length, fictionalized account of the life of the late Victorian poet, "Francis Thompson:  A Picture Biography," in Virginia Quarterly Review, Spring, 1928. And he published a poem in a late Victorian style, "Songs for my Soul," in Poetry: A Magazine of Verse (December 1930, 138-139).
Mary Martha Purdy took her BA and MA at the University of Michigan (in 1915 and 1921). She received her PhD in English from the University of Pittsburgh with a dissertation on Elizabethan Literary Treatments of the Proposed Marriages of Queen Elizabeth. She taught as an Assistant Professor of Education at Wittenberg College in Ohio. She left Wittenberg for Westminster College in New Wilmington, PA, where she served as Professor and Chair of the English department. She contributed an essay to If By Your Art: Testament to Percival Hunt, "Political Propaganda in Ballad and Masque."
Stanley Burnshaw (1906-2005) received his BA from the University of Pittsburgh in 1925. After graduation, and after he had begun to publish poetry in small presses, he took a job as a copy writer for the Blaw-Knox Steel Corporation in Blawnox, PA, to save money for travel in Europe, where he studied and wrote about the French poet, André Spire.  Burnshaw is perhaps best known for his book, The Seamless Web (1970), a study of poetry, language, perception and knowledge. He is also the author of the critical study, The Poem Itself (1960), a biography, Robert Frost Himself (1986), and several volumes of poetry. Burnshaw made his living as an editor, publisher and translator, most notably translating poetry in Hebrew. He was a drama critic and book reviewer for The New Masses. Throughout his career he wrote on and championed leftist causes.  In the 1930s, he became the editor-in-chief for the Cordon Company in New York, but then started his own firm, the Dryden Press, which merged with Holt, Rinehart and Winston in the late 1950s.  He had a famous dust-up with Wallace Stevens after publishing a negative review of Stevens in The New Masses.  For a later account of this, see: "Wallace Stevens and the Statue" (Sewanee Review, 1961). The Stanley Burnshaw Reader (1989) provides a selection of his poetry, translation, criticism and nonfiction.   
Clara Schnurer  (BA class of 1925) studied for a year at Columbia, then taught at the Ohio State University and Eastern Kentucky State Teachers College. She received her PhD from our department in 1930 with a dissertation on "Mrs. Gaskell's Fiction."
Genevieve McSwigan (BA class of 1921) became a staff writer for the Pittsburgh Post-Gazette.
Hamilton Porter, a graduate student, published an essay, "Books for Winter Nights," in the 1929 Pittsburgh Record (the university's alumni magazine).
John Regis Toomey (BA class of 1921) became a well-recognized television and movie actor. He appeared in over 180 films, including "The Big Sleep" (1946, Howard Hawks) and "You're In the Army Now" (1941, Lewis Seiler). In the latter, Toomey and Jane Wyman are said to have had the longest screen kiss on record--3 minutes and 5 seconds.  
Frank D. Curtin graduated magna cum laude with a BA in English in 1927. He earned his MA at Pitt and his Ph.D. from the University of Chicago. He returned to the University of Pittsburgh as a lecturer from 1929 to 1938, when he joined the faculty at Cornell. In 1942, he moved to join the faculty in English at St. Lawrence College, where he served as department chair until his retirement. Curtin wrote a number of scholarly papers, some for Nineteenth Century Studies, and he contributed a chapter to If By Your Art, the tribute to Percival Hunt. Curtin was also founder and chairman of the Steinman Festival of the Arts at St. Lawrence.
Eleazer Lecky (BA class of '23) completed an MA at Harvard (1924) and a PhD at Cornell (1938) and served as a Professor of English at the University of Southern California.    
William N. Robson (1906-1995) entered the University of Pittsburgh as a freshman in the Fall of 1923. He took freshman English with Agnes Lynch Starrett and courses with George Carver. After two years, he left the university to work as a reporter for the Pittsburgh Post. He later completed his degree at Yale. After graduating from Yale, Robson went to Hollywood to pursue a career and he sold a screenplay to Paramount Pictures based, he said, on work he did with George Carver at Pitt. This became the 1933 film Private Jones, starring Lee Tracey. In 1936, Robson moved to New York to write and direct radio dramas for CBS, including Archibald MacLeish's radio play, "Air Raid." In 1943, he won two Peabody awards, one for the dramatic series, Man Behind the Gun and another for the documentary, Open Letter on Race Hatred. In the 1950s, Robson was blacklisted as a communist sympathizer. 
Annette Nosoff (BA 1927) went on to act extensively in Pittsburgh theater, including for the Civic Playhouse. She appeared as Gladys Cady in The Beggar on Horseback, as a soubrette in Around the World in Eighty Days, and in a number of performances sponsored by the Young Men and Women's Hebrew Association.
Frederick Enos Woltman (1905-1970) graduated with a BA in English in 1927. He began his career in journalism at the New York Telegram, where he worked as an investigative reporter. He won a Pulitzer Prize in 1947 for a series of articles exposing communist "infiltration" into education, labor unions, organized religion and government. His books include The McCarthy Balance Sheet and The Shocking Story of the Amerasia Case.
Alfred McClung Lee (1906-1992) earned his BA in English in 1927 and worked as a reporter for Pittsburgh newspapers. In 1931, he received his MA in English at the University of Pittsburgh with a thesis on "Trends in Commercial Entertainment in Pittsburgh Newspapers: 1790-1860." Elizabeth Riley Briant (1908-1999), received her BA in English in 1929. Alfred Lee and Elizabeth Briant were married after her graduation and worked together as sociologists, authors and activists throughout their lives. Elizabeth Riley Briant Lee completed her MA with a thesis on "Personnel Aspects of Social Work in Pittsburgh," which
surveyed the needs and accomplishments of the new profession of social work, and she was instrumental in the establishment of a social work department at the University of Pittsburgh.Alfred Lee completed his Ph.D. in sociology at Yale University in 1933. His doctoral thesis was later published as The Daily Newspaper in America: The Evolution of a Social Instrument. Elizabeth Lee completed her PhD in sociology at Yale in 1938, with a dissertation titled, "Eminent Women: A Cultural Study." Alfred Lee taught sociology at the University of Kansas, Wayne State University, NYU, and Brooklyn College. Both Alfred and Elizabeth Lee were active in professional and political organizations, including the American Sociological Association, the NAACP and the ACLU. Together, they published The Fine Art of Propaganda; a Study of Father Coughlin's Speeches (1939), Social Problems in America: a Source Book (1949) and Marriage and the Family (1961). Alfred published a long list of books and textbooks, including Readings in Sociology, 1951; How to Understand Propaganda, 1952; Fraternities without Brotherhood: a Study of Prejudice on the American Campus, 1955; Multivalent Man, 1966; Toward a Humanist Sociology, 1973;  Sociology for Whom, 1978; Terrorism in Northern Ireland, 1983; and Sociology for People: Toward a Caring Profession, 1988.
Sister Mary Fides Shepperson received her BA from Duquesne University in 1911, where she was the first woman graduate. After teaching high school in Pittsburgh's Hill District, she completed her PhD in  English in 1923, with a dissertation on A Comparative Study of Saint Thomas Aquinas and Herbert Spencer. She became Professor of History at Mount Mercy College (Pittsburgh). She was the author of Cloister Chords (1922), Seventeen Crises in World History (1933), and The Life of Saint Francis of Assisi in Silhouettes (1939).
Student Writing
Beginning in the Spring, 1922, and after the demise of the Pittsburgh Review, students in the English department began to publish a magazine/newsletter called The Quill.  According to the announcement in the first issue, "a very slight but very insistent request has been made for some opportunity for original student writing at Pitt." The Quill was designed to meet that need.