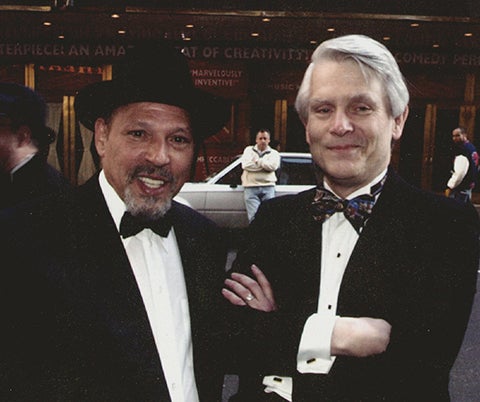 Chris Rawson with August Wilson at the opening of King Hedley II in 2001.
Christopher Rawson joined the English Department in 1968 and retired in 2018, after serving exactly 50 years.
He earned his BA at Harvard and his MA and PhD at the University of Washington, with a specialty in early 18th century British lit. Early in his Pitt tenure, he served as director of the literature program and associate chair of the Department. He has most frequently taught satire, Shakespeare, review writing, and August Wilson.
Part-way through his years at Pitt he developed a second career as theater critic for the Pittsburgh Post-Gazette, which he still serves as senior theater critic. His central achievement was chronicling August Wilson's career in more reviews, interviews and news stories than any other journalist. Rawson was the first to determine specific Hill District locations for the plays. One result: August Wilson: Pittsburgh Places in His Life and Plays (Pittsburgh History & Landmarks Foundation, 2011; 2nd ed 2015), co-authored with Laurence Glasco; the two are at work on the larger August Wilson's Pittsburgh for the University of Pittsburgh Press. He is currently (2019) secretary of the board of directors of August Wilson House, restoring the playwright's childhood home as an arts center for the Hill District.
Nationally, Chris serves on the board of directors of the American Theater Hall of Fame (1991- ), managing the annual selection process. He served two terms as chair of the American Theatre Critics Association (1991-93, 2007-11 ); served on the editorial board of Best Plays Theater Yearbook (2001- until it went defunct in 2009), contributing an annual essay on one of the ten best plays; has served on the executive committee of the International Association of Theatre Critics, a UNESCO organization; and is a founding board member of the Foundation of the American Theatre Critics Association (1990- ).
Locally, Chris has since 2001 produced the annual Off the Record, an original musical satirizing Pittsburgh news and newsmakers, to benefit the Greater Pittsburgh Community Food Bank. He directs the annual Kelly Critics program for high school critics, sponsored by Pittsburgh CLO and the Post-Gazette; and he regularly serves as a judge for the Gene Kelly Awards, August Wilson Monologue Contest, etc.
Research and Publications
At the Pittsburgh Post-Gazette, Chris was the full-time theater critic and theater editor (1983-2008); he wrote interviews, news stories, obituaries, and columns in addition to reviewing about 160 plays a year in Pittsburgh, New York, London and Canada — more than 3,500 by-lines in all. Now (semi-retired) senior critic, he reviews some 60 plays a year, and he is also a regular theater commentator on KDKA-TV.
Awards and Distinctions
Lifetime Achievement Award, Pittsburgh New Works Festival; several Golden Quill and other awards for cultural reporting; Robert L. Vann Award from Black Media Federation; Public Service Award from Pittsburgh Newspaper Guild.
Chris can be reached at cchr@pitt.edu.