The English Department advisors are all teaching faculty as well as experienced mentors in our five majors (English Literature, Writing, Film & Media Studies, Public & Professional Writing, and Digital Narrative & Interactive Design). Here are links to our faculty profiles along with our current contact information.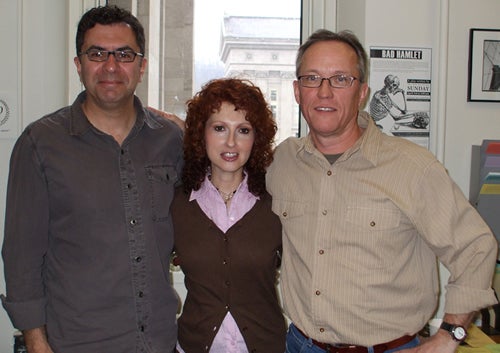 Jeff Aziz, PhD | jeffaziz@pitt.edu | 412-624-2228
Lori Campbell, PhD | lmc5@pitt.edu | 412-624-6559
Mark Kemp, PhD | mkemp@pitt.edu | 412-624-6656
We are located in the Cathedral of Learning room 501-C.
Please schedule appointments through the Pathways platform. On your my.pitt portal home page, find the blue "Pathways Navigate Student" tile and add it to your favorites. Here's some information about getting started. You'll need to choose the location ("501C Cathedral of Learning—English & Film Advising"); the service (you can choose a specific advisor or, if you just want an appointment with any available advisor, select the first option, "English and Film Advising"); and, in the Comments box, any specific info about the purpose of this meeting and your preference of format. During the COVID-19 Elevated Risk level, you may meet with us via Zoom meeting or phone; if you prefer a phone call, please leave your number in the Comments box.
Please note: Students are not assigned one particular advisor in the five majors housed in English. Our hours vary and we want to ensure that we offer maximum availability. You can schedule advising with any one of us, continue with one advisor or meet with one of the others, at any time they're available.
Once you have declared a major or minor in English Writing, Literature, Public and Professional Writing, Film and Media Studies, and/or DNID, or if you're considering one of these programs, you should contact us. We're here to help with any questions and concerns you have, from choosing the right courses to thinking about completing your degree and planning for after graduation.
Check out the Undergraduate Timeline Brochure to make sure you are on track to be prepared for the job market after graduation. But you can also see one of our department advisors for personalized help, guidance, and conversation.
IMPORTANT: Please note that all students need to see their major advisor (or one of their advisors if they have more than one major) who will OK them for online self-registration. Depending on your registration starting date and time, which will be issued to you based on your number of credits earned (graduating seniors first, second-term freshman last), you will want to set up your advising in timely fashion.
The Academic Calendar lists important dates and deadlines.