Students can apply to the PhD program in Critical & Cultural Studies, the English concentration of the Interdisciplinary Film & Media Studies PhD, the Master of Arts (MA) program, and the Master of Fine Arts program through GradCAS, the online application used by the Unviersity of Pittsburgh. Applications for the 2024-2025 admissions season will open in September 2023.
If you have any questions about applying for the PhD, MA, or MFA programs, please don't hesitate to reach out to the Graduate Administrator, LJ Woolcock-Srolovic, at engrad@pitt.edu.
General Information About Applying
Review the requirements as outlined below. Failure to follow these steps may delay or disqualify your application.
Complete and submit your online application. Make sure you follow the instructions provided on the Liaison GradCAS website, and have a copy of your submitted application for your records.
All materials should be submitted online through Liaison GradCAS, including all letters of recommendation. At this time we cannot accept letters of recommendation emailed directly to the department via email or through third-party services such as Interfolio. If applicants have technical issues uploading documents or requesting letters of recommendation, they should consult the GradCAS Help Center and reach out to GradCAS support through the chat function within their GradCAS application or via email (gradcasinfo@liaisoncas.com). Applicants who are still unable to resolve their issues may reach out to engrad@pitt.edu for assistance.
Only students who apply for the PhD and the Master of Fine Arts (MFA) program are eligible for departmental funding. The English Department is not able to fund students seeking the Master of Arts (MA) at this time. We can only consider applicants to the Master of Arts (MA) program who have an external source of funding, such as the employee tuition benefit given to University of Pittsburgh staff, in addition to meeting the admissions committee's academic criteria.
Finding & selecting a program
Applicants will be directed to select the term in which they intend to apply. This will start a common application that you can add the English Department's programs to.
To find and select the Department of English's programs, applicants go into the "Add Programs" tab. From there, they will locate and add the program they wish to apply to, either by browsing the list of all programs in GradCAS, or by searching.
Our programs are listed under the following names:
PhD in Critical & Cultural Studies: Doctor of Philosophy in English (Fall 2024)
English concentration of Film & Media Studies: Doctor of Film and Media Studies, English (Fall 2024)
Creative Writing MFA: Master of Fine Arts in English (Fall 2024)
English Master's program: Master of Arts in English (Fall 2024)
A search for "Pitt English" should bring up all of these programs: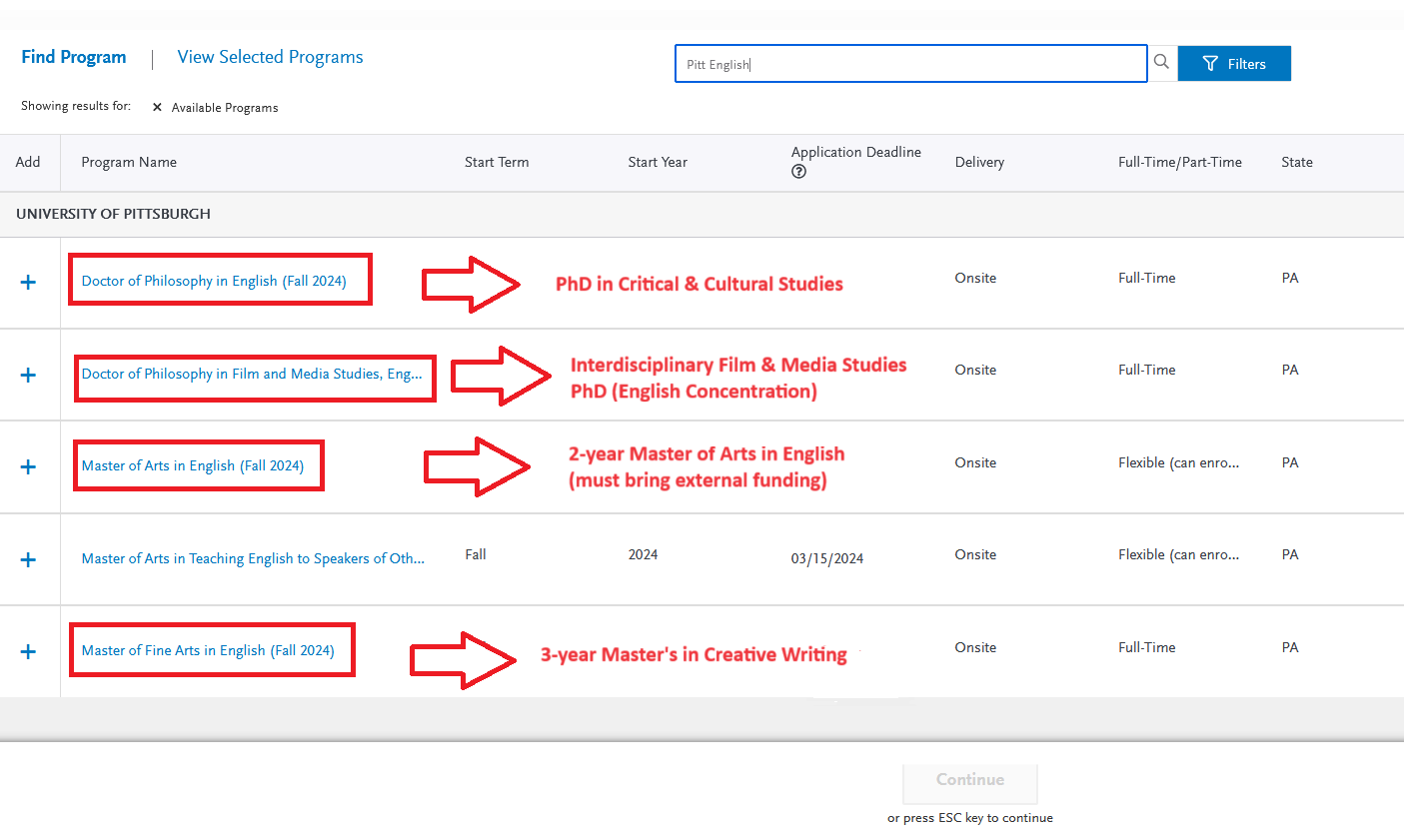 Applicants who wish to be considered for graduate study in creative writing should select the Master of Fine Arts program, not the Master of Arts program. They are separate programs.
Once applicants have located the appropriate program, they should click the plus (+) sign next to the program's name to add that program to their application. Clicking the name of the program will not start an application. It will open the program's description.
All applications to the Film & Media Studies Interdisciplinary PhD will be reviewed both by Film & Media Studies faculty and the English department. However, if applicants to Film & Media Studies also wish to be considered separately for the PhD in Critical & Cultural Studies, they may do so. Applicants should complete an application for both programs. The same application materials can be submitted to both.
Application Materials
These materials must be submitted as part of the application:
1. Online Application Form
Note: When listing the institutions that you have attended, please make sure that all of the information is visible on the application. If all information is not visible on the application (e.g., if the school name is too long), a separate list must be submitted. You must list your GPA, the degree you earned (BA, BS, MA) if any, and the month/year that the degree was obtained.
2. Area of Concentration
You will be asked to indicate your intended area of concentration as part of the application.
For PhD applicants:
The PhD in Critical & Cultural Studies has 3 concentrations: Composition, Film, and Literature. Students interested in Composition or Film should select those options. Students in the Literature program should indicate one of the program's focal areas that best represents your interests. The focal areas include:
Children's Literature & Childhood Studies
Genealogies of Modernity
Media & Material Practices
Race, Poetics, and Empire
You can learn more about the focal areas on the Literature program's website.
The PhD program values interdisciplinary work, and we have a long tradition of supporting excellent graduate students whose work cuts across programs and focal areas. To facilitate our review of a large number of applications we ask that you select one concentration or focal area that most strongly fits your interests, but we encourage you to identify additional areas of interest in your Statement of Purpose. We expect most admitted students will work beyond the areas of specialization they select in their application incoursework and research.
For MFA applicants:
Your concentration will be your primary genre (Fiction, Nonfiction, or Poetry). Please select the genre that best fits the work you hope to produce during the program. The MFA program at the University of Pittsburgh is highly supportive cross-genre work. Selecting one genre does not "lock you in" to that genre, and many students take classes across genres throughout their degree. Applicants still may be considered for more than one genre upon request; those interested should email engrad@pitt.edu with the genres they would like to be considered for.
3. Detailed Statement of Purpose
Applicants to the PhD program & MA program should submit a statement of purpose two to three pages in length, single-spaced.
For MFA applicants, your statement of purpose should tell us about yourself and what brought you to this program. Why did you choose the University of Pittsburgh's MFA program? What do you expect from your time in the program? What are your aspirations as a writer?

In addition to these sorts of questions, MA and PhD applicants should also highlight your sense of direction and some of the field conversations that you might be entering. If you have specific faculty members who you wish to work with, you can include them and how you see their work supporting your future research.
4. Three Letters of Recommendation
All applicants must submit three letters of recommendation, provided by faculty members or others who can write about your suitability for graduate study in the degree program to which you are applying. The online application will ask you to submit contact information, including email addresses, for your recommenders, and the recommenders will be contacted electronically and asked to upload letters of recommendation and complete a short survey. Both the survey & the recommendation letter must be submitted. Recommendations can requested by applicants prior the submission of the application itself. 
It is your responsibility to be sure that letters of recommendation are submitted by December 10, 2023 (MA and PhD applicants) or by January 7, 2024 (MFA applicants). Please contact your recommenders directly to be sure they have received the email prompts from Liaison GradCAS and to be sure they have submitted their letters. If applicants or recommenders have technical issues requesting or submitting recommendations, the GradCAS Help Center has an outline of troubleshooting techniques for letters of recommendation. If issues persist, applicants may contact engrad@pitt.edu.
5. GPA eligibility
Full admission to any of our graduate programs requires an undergraduate GPA of 3.0 or a significant amount of graduate work at 3.0 or higher. Admits and students cannot be awarded a TA/TF/GSA or Dietrich School Arts and Sciences Fellowship with a GPA below 3.0. If an applicant has a GPA between 2.76 and 2.99, the applicant can only be admitted on provisional status. Because all students admitted on provisional status are ineligible for funding from the Dietrich School of Arts & Sciences, these students would not be eligible for the departmental funding typically offered to 1st-year students. Provisional students must complete at least 12 credits (3 courses) of graduate course work with a grade of B or higher before their provisional status will be removed.
6. Transcripts
Applicants will be required to submit unofficial transcripts for their previous undergraduate & graduate study. Applicants do not need to provide official transcripts during the admissions process; only applicants who are admitted and accept their offer of admission will be required to submit official transcripts.
7. Writing Samples
MA and PhD applicants: The writing sample should be a critical or interpretive essay of approximately 20 pages.
MFA Applicants: The writing sample should consist of published or unpublished work in the genre for which you are applying (fiction, nonfiction, or poetry). For fiction and nonfiction applicants, the sample should be approximately 25 pages, double-spaced, and for poetry applicants, approximately 20 pages, single-spaced, with one poem per page (as applicable).
8. Application Fee or Fee Waiver
The application fee is $75.00, and can be paid by credit card through Liaison GradCAS. The fee is the same for US citizens and international students.
For those seeking an application fee waiver: In an effort to reduce financial barriers to attending graduate school, the Kenneth P. Dietrich Graduate School of Arts and Sciences offers application fee waivers. Please note that fee waivers are approved on a case-by-case basis and not all fee waiver requests will be granted.  All requests received will be reviewed and responded to within 48 hours during normal business hours: Monday - Friday 8:30a.m. to 5:00p.m. EST.  To be considered for a fee waiver, please complete the following fee waiver application for review. More information can be found on the Dietrich Graduate Office's website: https://www.asgraduate.pitt.edu/admissions/application-fee-waivers
9. For MFA Applicants only: Shortlisted candidates will be interviewed by Skype or phone, and all applicants will be notified when final decisions are made.
As of the 2020-21, GRE scores are not required and will not be considered by the admissions committees.
International Students
In addition to the requirements listed on the Apply and Additional Materials pages, international students must also include English language proficiency scores from TOEFL, IELTS, or Duolingo .
The required minimum TOEFL score of 90 (with at least a score of 22 in all of the four sections of speaking, listening, reading and writing) will be required for 2023-2024 applicants - the program code for sending TOEFL exam scores is 2927.  The required minimum IELTS score of 7.0 (with at least 6.5 in each of its four sections) will be required for 2023-2024 applicants. Applicants self-report the IELTS result and must upload a PDF of the official test result under the "Additional Information" section as part of the online application process. 
The minimum Duolingo score acceptable for admission to DSAS graduate programs is 120. Similar as to those submitting IELTS scores, applicants must share their Duolingo test results by uploading them as a PDF under 'Additional Information' in their online application.

International students may be eligible for a waiver from providing English proficiency scores, if they meet one of following three conditions:
The applicant is a citizen of a country whose official language is English
The applicant graduated from a regionally accredited institution in the United States  
The applicant graduated from an institution where the language of instruction is English and where the official national language of the country in which the institution is located is English.
All waivers of the Language Requirement can only be issued in alignment with the Dietrich School's policy on Assessment of English Language Proficiency for Admission. The document Exhibit A of this policy provides a list of countries which are exempt from submitting language proficiency scores.
If you are uncertain if you are eligible for a waiver of this requirement, please reach out to the graduate administrator (engrad@pitt.edu).
Applicants who have questions that are not addressed here should feel free to reach out to the Graduate Administrator at engrad@pitt.edu.